Andrew Dice Clay: "I'm a sexual animal"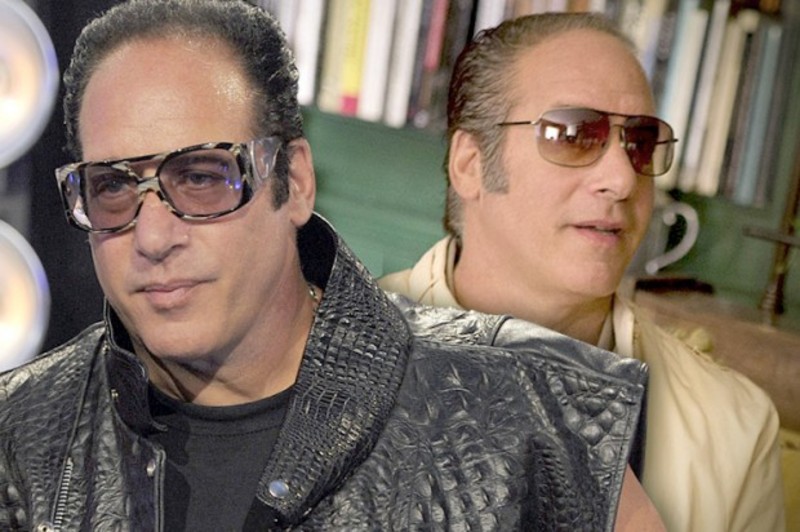 The "Blue Jasmine" actor on his comeback, his views on women, and the tiger-carpeted nightclub he had in his house.

By Daniel D'Addario – July 23,2013

Andrew Dice Clay, it seems, is back.

The raunchy comedian, who broke out in an HBO Rodney Dangerfield special in 1988, has been going through a lengthy wilderness period; after the charms of his particular brand of aggressive, sexual comedy wore off, the comic who once made vanity film "The Adventures of Ford Fairlane" didn't appear in a theatrical film for twelve years; he even did "The Celebrity Apprentice." Recently, Clay's luck has changed, though; after a stint on "Entourage" in 2011, he appeared in "Indestructible," a special on Showtime, and now appears in Woody Allen's new film "Blue Jasmine."

In "Blue Jasmine," which centers on the struggles of Jasmine, a society matron (Cate Blanchett) fallen upon hard times and mental instability, Clay plays a surprisingly pivotal role. As the ex-husband of Jasmine's sister Ginger (Sally Hawkins), he's in flashback sharing the good times with Jasmine and Ginger as well as, bitterly angry, further catalyzing Jasmine's downfall in the present day. It's a challenging role, and one that Clay pulls off even when the specifics of his character (he's a workaday schmoe in the gritty lower-class milieu of, um, 2013 San Francisco) seem off-base.

Clay spoke at length with Salon about his comeback, which he attributes to a particularly fierce sort of self-confidence. We also asked about his opinions about women, as he's hardly stopped making extremely provocative (some might say offensive) remarks in his comedy about the relationship between the genders. The actor, whose upcoming memoir was just announced, has much to say about the sort of Dice his fans expect and why Woody Allen relates to "Entourage."

How does straight dramatic acting differ from what you've done historically?

It was definitely challenging for me. You know, just hearing you're going up for a Woody Allen movie, you immediately think comedy, even though he's done some dramatic movies. But this wound up a very dramatic movie. It was a challenge I enjoyed — I've never been challenged like that as an actor. I'm hearing some nice things; my whole thing is, I just want to do a nice job. He's going out on a limb. He sees something in me. I just want to do the very best I can so he can feel good he hired me.

How'd he find you in the first place?

He saw me on "Entourage." When my manager called me about him wanting to meet me, I thought he was kidding. [My manager] goofs on me a lot. I was packing up from the Westbury Music Fair for a 6 a.m. flight to L.A. I'm like, "Bruce, I'll see you tomorrow." And he's like, "I'm not fucking around with you. I'm calling about a movie, what do you think?" Obviously I was interested.

It's kind of funny that Woody Allen watches "Entourage."

Woody's been in the business all the years. And "Entourage" depicted Hollywood. I was a fan of "Entourage" way before I was in it. I related so much to it. Everything that happened in my career, the hanger-ons, the leeches, the girls, being in the movies. Woody could relate to all that.

Do you still get hangers-on and aggressive fans?

It's gotten to the point where I do need someone to travel with me. Last time I went through an airport, it was hectic for me. I can't do this anymore, people are on me again. There's a gigantic public awareness since I made "Entourage." When I made it, it was one jump. I did the Rodney Dangerfield HBO special, and I was in arenas for years. For "Entourage," it was going up a flight of steps slowly, building to this again. I didn't see it coming, and I have that kind of personality where I can know everything that's going on. Now, it's becoming like mania again.

I guess having mania around you must be nice after a long wilderness period.

I went through a lot of hard things. I lost both my parents. I remember talking to my dad before he passed away and I said, "I'm gonna finish what we started." If I was sitting pretty financially — well, I do okay, but like every star, I went through a divorce, and it cost millions of dollars — if I was filthy rich, I'd quit show business. "Indestructible," the [2012] LOLflix production on Showtime, showed the comic I was again. And now to prove I had the chops as an actor, to me, that was all good enough. I proved my point.

Not that I don't love show business. But I'd quit and manage my own kids who have this rock band, L.A. Rocks, that's getting hot. What I love is that I'm showing my kids by example. They saw me at my lowest, fighting to survive.

My history is amazing. That much I know. But I always looked at show business like survival. There's never a guarantee in show business. There's no saying "You work 25, 30 years and then we'll take care of you." If you don't have utter belief in yourself as a performer and know those talents are really there, you might as well not even try. I think I have more belief than most people I've ever met. I took all the emotional hits of the last decade and a half, but I always saw the light at the end of the tunnel. When we show up at a premiere in New York we're walking through that light.

Does it bother you that your sons want to enter show business, given the ups and downs you've experienced? Or did their aspirations encourage you?

The kind of gigs they're doing — my son loves actors like Leonardo DiCaprio, James Franco, Ryan Gosling; my other son does stand-up, then they're together as their band. They get this from me. If I were to stay on the ground, what does that say to them? They know their father's history, and would say, Look at this, he just gave up, so why should we try? I always had to have a reason to want to get to where I want to go. I'm not that narcissistic that it's all about me.

When I was younger, I would tell these guys and they'd look at me like I'm nuts — I'd say, "I'm going to become the biggest comic in the world, then the biggest movie star in the world." And when they looked at me with disbelief, I knew they didn't have that belief in themselves. I knew if I could do that, I'd give my family everything they ever wanted. My father would talk about wanting a little condo in Florida, they couldn't afford that.

And the last 15 years, my reason to want to get back on top and to accomplish again was to show my sons it could be done. I'm a guy in my mid-50s — I was never Mr. Universe. When I did my special, I looked pretty decent, I kept my training going after "Entourage." My fans have to see the Dice they fell in love with. If I go out there with a 42 waist they're going to be like, "I don't want to remember him like that." I trained my ass off, I'm a 33 waist, I trained my upper body. My trainer is Sly Stallone's guy, from Czechoslovakia. I met him right before I did "Ford Fairlane"; Sly Stallone set me up with him. I always listened to him even though he's moved home now. People my age can look at me and say "Look at that guy. You don't have to fold."

I want people to look at me and say "He looks better than he did!" I'm Andrew Dice Clay and they expect something from me and I'm going to give them what they expect. I almost look at comedy like a service. We live in a rough world. A guy who's not married, what's he going to do? He's going to go to a hooker. That's a service. And when people come to me, I'm going to make them laugh as hard as possible — it's like an orgasm.

Your views on gender relationships were met with huge opposition even in the 1980s and 1990s. And such views have only grown more — let's say, outmoded. How have you responded to the way society's changed?

Times have changed. But the act is as hard-core as ever. There's a whole new generation of women, the most aggressive women in the world now. Years ago, women would get mad, protest, walk out. Today, they're in the front cheering me on. What I say is factual, but I paint a cartoon picture on it. I want to make them laugh at what they do. When I talk about the asshole as a spare pussy, women are laughing because women are bleaching their assholes! Come on. You know how funny that is? I gotta pick my kids up; I gotta get my asshole bleached. Come on. That's hysterical. They're not booing it. Their minds have changed. God forbid if you're 21 years old and you're a woman and you don't have a naked picture. You're not keeping up with the Joneses.

Talk a little bit about the protests when you appeared on "Saturday Night Live." Nora Dunn, a cast member, didn't appear. She has a sense of humor, being a comedian, yet she was so offended by your work…

That was a power play for that girl. They weren't rehiring her. That's the stuff they don't talk about. There were problems for Lorne Michaels and the network. That's all going in my book. You're talking about a show where everyone's playing characters. Who the hell is Andrew Dice Clay on the show? We're all playing characters. And how was I married for 16 years if I'm the guy onstage? How have I been married for the last three years?

Do you respect women?

I respect women that respect themselves. There's a lot of men I don't respect and a lot of men I do. Of course I do. But I'm a sexual animal. Any relationship I've had has been extremely sexual. I was married for 16 years. That's a long run. And I was always romantic about it. It wasn't the type of thing where I would get laid and go to sleep. I'd make a production out of it. I had a nightclub in my house called Club 33. When friends came over, they'd want to hang out, the walls were all different fabrics, puffed out; there was tiger carpet, a sound system, a hammock from the ceiling you could lie in. There was new custom furniture every six months. I would always look to keep romance alive. It wasn't about hopping on Pop, and "Good night, Nurse." It was about completely thrilling the woman I was with. You can't do that to a woman you don't respect.

I'd say to my wife, "I need to stop with the movie star stuff. I want to rebuild the comedy thing." And she'd say "No, you're too handsome, you're a movie star." Look at me. She's 26 years younger than me. The Woody Allen thing happened, so maybe she's right! Who knows! It's funny to see myself like that. This guy gave me a role that is something I've never done. I wanted to bring my A-game. I didn't do a movie for 12 years. I never went back to school my whole life. I almost developed my own method of acting. [Allen] seemed to love it. I cant brag about it yet, though, because I don't know.

Getting a little more specific, what are your thoughts about female comics — are you one of those people who believes women are congenitally less funny?

As far as female comics — this is the craziest. I live with my wife and my ex-fiancée; my ex-fiancée is Eleanor Kerrigan, who's my opening act. To me, she's one of the strongest female comics out there today. She's been opening my show — to open in front of my crowds, the toughest crowds in stand-up, she slays them. She's as good or better as any male opener I've ever had. Girls like Chelsea Handler, Whitney Cummings, these women today — the women have gotten better looking in comedy. It's nice to look at a good-looking girl onstage. Eleanor's from South Philly. She's got that bite. She's got anger in her. She knows how to attack.

Do you consider yourself angry?

I'm a roller-coaster. I go through a lot every day. I try not to go out, especially on the road. I don't like seeing people in their cars, because they're bullies. People show their real personalities in their cars. I just want to be home, where I'm nice and calm. I observe and I take it to the stage. My real talent as a comic is painting unbelievably cartoonish paintings of people having sex. My job is to make people laugh at themselves.

How did you get along with Cate Blanchett? You come from very different corners of popular culture.

She's one of the greats, the all-time actresses. I went over to her on the first day and said, "I can't believe I get to work with people like you and Alec Baldwin." And she said, "You know what? We were just saying that about you." I'm just hoping for the best, it's kind of nerve-wracking. If I didn't have to go to the premiere, I wouldn't see it for two years. A lot of times, after I do the work, I don't see it until I hear what people thought.