Andrew Dice Clay: 'Blue Jasmine' Role for a Blue Comic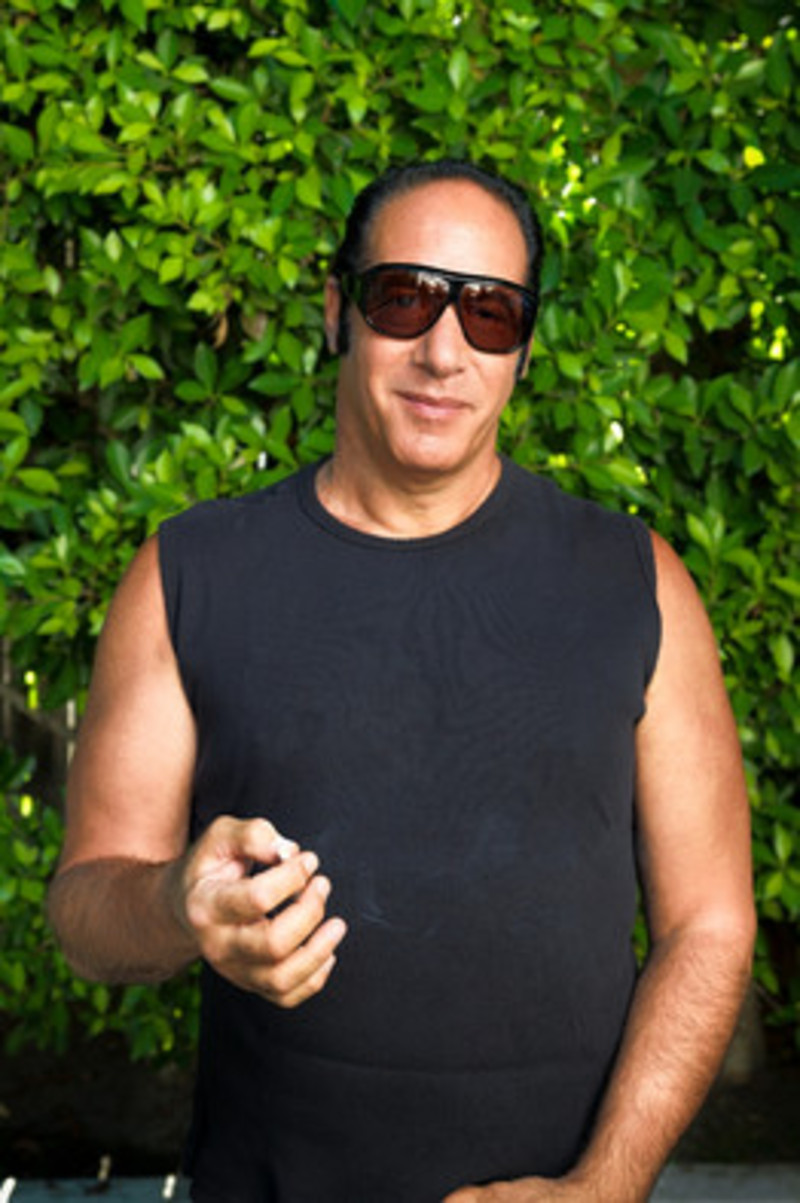 Why Woody Allen thought he was perfect for his new movie…
WALL STREET JOURNAL - Friday, July 19, 2013 by Don Steinberg
Andrew Dice Claycalls himself "the most vile comic ever to walk on a stage." He became a rock star of stand-up comedy in the late 1980s as a filthy-mouthed braggart, selling out Madison Square Garden telling vulgar versions of nursery rhymes. He was vilified by women's groups and gay groups for his material.
Andrew Dice Clay was a highly popular but notoriously divisive comic 20 years ago; Woody Allen picked him as a blue-collar ex-husband and dad in 'Blue Jasmine.'
Woody Allen came up in comedy in the early 1960s as a self-effacing intellectual. He joked that he was kicked out of New York University for cheating on his metaphysics exam, after being caught looking into the soul of the student sitting next to him.
Yet the first unlikely creative collaboration between the Woodman and the Diceman really has gone well. In Mr. Allen's new film "Blue Jasmine" (due July 26), Mr. Clay plays Augie, a well-intentioned, blue-collar ex-husband. His role supports stars Cate Blanchett and Alec Baldwin.
"I was doing Westbury Music Fair out in Long Island," Mr. Clay explains. "I was packed up, ready to go back to L.A., and I got a call from my manager Bruce Rubenstein. He goes, 'Look, stay in New York, I want you to meet with Woody Allen. He thinks you're right for a part in his movie.' I'm like, 'You're kidding, right? Woody Allen wants me in his movie?' If he had said Scorsese, I would get it."
Mr. Clay and Mr. Allen have a little more in common than their divergent material suggests. Both were Jewish kids from Brooklyn who, in different eras, attended neighboring high schools. "He was Midwood, I was Madison," says Mr. Clay, who at 55 is 22 years younger than the director. Both went into comedy, restyling their given names (Allan Stewart Konigsberg and Andrew Clay Silverstein) to sound like they descended from early American patriots.
"Honestly," Mr. Clay says, zeroing in on their mutual experience, "we've both lived kind of controversial lives."
As a director, Mr. Allen is known for his outside-the-box casting choices. The comedian Louis C.K. had read for the Augie part, but "he was just too sweet and middle class," says Juliet Taylor, who has been casting director for Woody Allen since "Love and Death" in 1975. Mr. C.K. plays another character in the movie instead. Mr. Allen and Ms. Taylor also spoke about the Augie part with the late James Gandolfini.
"We had been working on this part for ages. We were having a little trouble finding the right balance," Ms. Taylor says. "As Woody said—he always uses the word—he wanted him to be a 'lowlife' kind of guy, but he didn't want him to be a mobster kind of guy. Kind of crude, but not a bad guy. We were sitting around brainstorming, throwing out ideas and names…Woody said 'What about Andrew Dice Clay?' and we went, 'Oh, my God—where has he been?' Truthfully, I hadn't heard much about what he had been doing in recent years. I knew he had had that sort of fracas years ago, about the sort of misogynistic content of his act. I suppose he fell out of favor after that period."
The self-described "vile" comic Andrew Dice Clay has an understated role in the new Woody Allen movie, "Blue Jasmine." Don Steinberg takes a look at this strange turn of events.
Mr. Allen apparently had Mr. Clay stowed in his mind for years. "I saw him as a stand-up comedian, and I've always thought he would be great," Mr. Allen said via email from a film location in Europe. "I have great confidence in the ability of comedians."
So they invited Mr. Clay to audition. "He just walks in, and he's the guy," Ms. Taylor recalls. "It's all kind of on-the-natch. His acting was just on-target effortless. He didn't try to act too much. He just was. He was exactly what the part called for."
The truth is that Andrew Dice Clay's act has always been about creating character. As a kid he knew was going to be a performer, but he didn't study comedians. His models were larger-than-life rock and movie stars, whom he imitated, literally, from Elvis to Al Pacino. Early on he did a routine where he came on stage as a nebbish with a Jerry Lewis voice and transformed, "Nutty Professor"-style, into a stud in a leather jacket doing a dead-on John Travolta. In the '80s he moved to Los Angeles, auditioning for parts while working in clubs. He played an injured corporal in a 1982 episode of "M*A*S*H."
"I was doing the stand-up, but really going for the acting career. I just didn't want to go to acting school. I figured I would hone different things on stage as a performer," he says. Indeed, soon the Diceman rose, and the cocky, X-rated greaser he created for his comedy act blew up. He was the first comic to sell out consecutive nights at Madison Square Garden. He got a film deal and played a version of the Diceman in "Casual Sex?" and "The Adventures of Ford Fairlane." The latter, his first star vehicle, was assailed by critics. It was quickly yanked out of theaters, which Mr. Clay blames on groups who didn't like his comedy act.
"I was blackballed," he says. He spent the better part of the past decade and a half laying low, doing a couple of bad reality shows, and raising his two sons (his "Blue Jasmine" character has two young sons). He has never felt the need to apologize for his material.
"It's four-letter words. I say it in a comedic form," he says. The success of his dirty-as-ever comeback concert this New Year's Eve—a Showtime TV special defiantly titled "Indestructible"—proves that mainstream culture has caught up to him, he suggests. His resurgence really began in 2011, when Doug Ellin, a Dice fan and creator of HBO's "Entourage," gave Mr. Clay a prominent role in the series' final season, playing a humbled but proud version of himself.
The character Augie in "Blue Jasmine" is a hardworking guy, screwed by the system. "I tapped into the kind of life I've lived," Mr. Clay says. He admits he was nervous going into the audition, but Mr. Allen's process put him at ease.
"I liked Woody's setup," he says. "It wasn't like they're behind the desk with their feet up, everybody's judging. That's why I even stopped going out for the acting stuff. At a certain point you go, 'I don't need to be judged by anybody. I know my abilities.' But he made me relaxed. We talked a little. I'd been having a problem with my left eye for a few years, a retina problem, and we were talking about eye problems.
"He looks at me, and goes, 'So we're doing this movie and would you read a few pages?' I go, 'Yeah, but can you give me something to go on?' He doesn't give you much. It was almost like he wanted to see if I'd find it on the page. I walked out of the room for a minute with the casting lady. I looked at it one time, and I go, 'I got this. Let's go in.'
"I came in and he stood there. Me and the casting lady are facing each other, like 2 feet apart, and Woody's standing right on the side of us watching, like he's a camera. I mean uncomfortably close. And I go through it, the two pages. And everybody's quiet and looking at each other. And I look at him, cause I'm like, 'No. 1, you didn't tell me anything about this, and if you need me to do it a different way, I'll do it again.' "
And then, as Mr. Clay describes it, transforming his voice into a nifty Woody Allen impersonation, the director said: "Well, the truth is…"
Read the full Wall Street Journal article here.