Photos: Andrew Dice Clay unveils memorabilia display at Hard Rock Hotel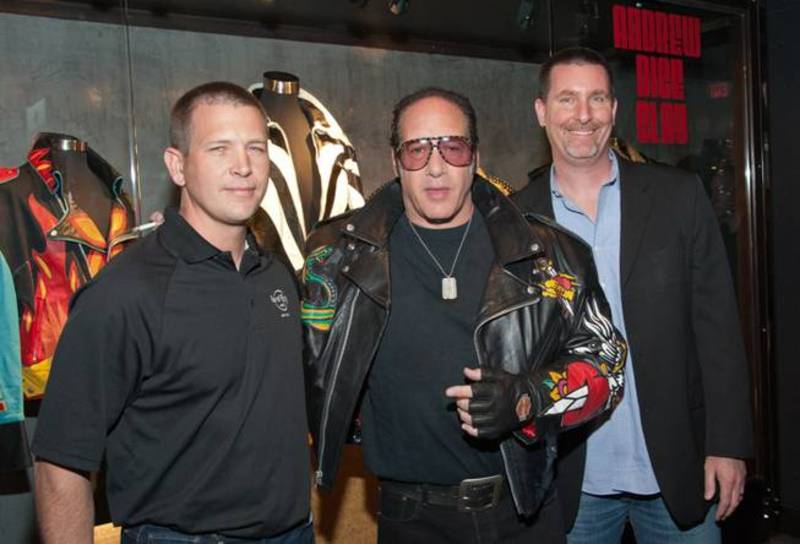 He's never shied away from using four-letter words to punctuate his comedy, and Andrew Dice Clay isn't about to stop the F-word, the C-word, the P-word and any other letter now that he has a new home. Bet your last dollar that he'll continue shocking and entertaining fans with his controversial and edgy humor.

The legendary foul- and fresh-mouthed comic starts his new residency at Vinyl in The Hard Rock Hotel on Thursday, and it's the first for a comedian at the hotel casino. On Tuesday, The Dice Man received an official welcome from COO Jody Lake and Entertainment Vice President Paul Davis. A loud and enthusiastic crowd of fans turned out for the mid-afternoon ceremony as the memorabilia case was dedicated and officially went on display. Our thanks to videographer Richard Corey for his video posted on YouTube and Pat Gray of Erik Kabik Photography for his photo gallery.

The display includes several of Dice's iconic leather jackets, including the zebra one he wore the night he was fired after 1989's MTV Video Music Awards and banned for life from the cable music network.

Dice explained the importance of each piece, including the jacket with red, yellow and orange flames from his "40 Too Long" album and a black and leopard print leather coat, which was worn during his live performance at a New Jersey arena for his fastest sellout show.

"This is our first-ever comedian residency, so we're very excited about having Andrew Dice Clay at Vinyl," Jody said. Dice told the crowd: "I'm very excited to be at Hard Rock Hotel and Casino because it's the rock 'n' roll hotel, and I'm the rock 'n' roll comedian. There was only one Elvis as the King of Rock, and there is only one Andrew Dice Clay."

Dice's first run at Vinyl includes selected long weekend dates through May 26.
Click Here to read the full article written by Robin Leach for Las Vegas Sun.