Andrew Dice Clay On 'Indestructible,' His Comeback And Why He Hates Internet Porn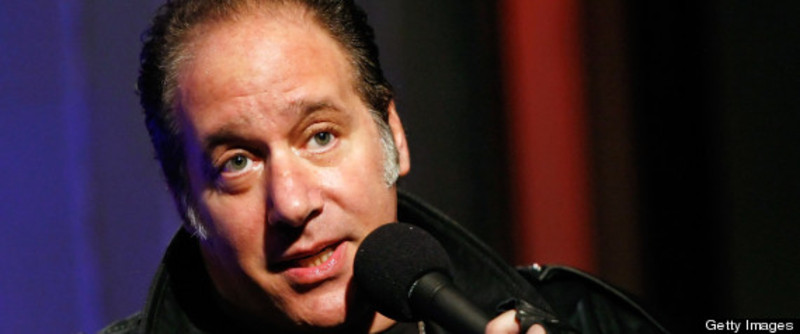 This New Years Eve, audiences will have the opportunity to see the first new Andrew Dice Clay stand-up special in 17 years. During his heyday in the 1980s, the Brooklyn-bred comedian was one of the most popular and divisive figures in pop culture, but Clay had been largely out of the public eye since the '90s after his stand-up career faded and his film career fizzled. But in 2010, he played a thinly-concealed version of himself in an arc on the final season of "Entourage" to much acclaim. Surprising many, his next big job came in the form of a dramatic role in the currently untitled Woody Allen film.

We spoke to Clay about how he prepared for his new special, how he balances his family life and career and why he really, really hates Internet porn. "Indestructible" airs on Showtime on Monday, Dec. 31 at 10 p.m. EST.

HuffPost Comedy: I enjoyed your special.

Andrew Dice Clay: [laughs] Yeah?

HPC: Why is that funny?

ADC: I didn't do anything for many years, and then when I did "Entourage" I was ready for the onslaught from the press. But it was a lovefest. I was like, are they goofin' on me? Is this for a goof? I got a sense of humor about stuff, so it was like, this is too good! I'm waiting for the hammer to fall, and then I go, well, they'll see the special and things will go back to normal. But, people seem to be diggin' it.

HPC: It's pretty much just classic Dice.
ADC: I've always had my voice as a comic. I was never that into politics, or prop comedy. I'm a Brooklyn guy onstage, and I try to really feed my fans with the kind of material they expect from me. If Seinfeld got dirty, people would be like, what's this about? There was no way I was going to clean it up. I'm very real up there. I might do cartoonish sexual jokes, but it's my way of saying what's going on in the world. How people are animals, really.

HPC: Has that view changed since you started out? That people are animals?
ADC: A thousand percent. Like I say in the special, people have always been animals when it comes to sex. But since the Internet, it's become really out of control, in my opinion. I know this will sound crazy, but I tried, and I think succeeded, in sheltering my own sons from the Internet when they were very young. I remember having a conversation with my son, who's now 22, where I said, "I can't stop you from sneaking around and going on the Internet. But I'm your father and I won't lie to you. The things you see on the Internet can twist your mind for life." And I have kids who listen to me, so they did stay away from it. Everything out there is just heinous. I just don't feel like parents are guiding their children in that way.

HPC: What do you think parents are doing wrong?
ADC: I lived in Beverly Hills for years. I always had a line, 'I hate the rich.' From what I witnessed after living there for 15 years, these people just don't raise their kids. I used to see the lineup of cars in front of the schools and it was all the nannies. And I'd hear all the stories of, 'My parents were in this country and that country,' and I'm just thinking, who the fuck is raising you? By the time the kids are 15, they're drunks and they're drug addicts and they're getting chicks pregnant. The parents wonder, what did I do wrong? What you did wrong was, you were never there. You had the kid as a status symbol, that's what went wrong. You sent your kid to boarding school, that's what went fuckin' wrong. And you're paying the price for it.

HPC: Your kids open for you in the special. Why did you decide to let them do that?
ADC: They put so much into their music. They've been active for years and really dedicated themselves to it. We're a very tight, close-knit family. Years ago, Rodney Dangerfield gave me the opportunity to be in the "Young Comedians" special, and I felt like [my kids] were ready for people to see them.

HPC: Were your parents supportive of your performing career?
ADC: My dad, who passed away a few years ago, was my manager. Even though I was with bigger management in L.A., I didn't make a move without my father. My mother was the one who totally got behind me as far as, do things and ask questions later. My father would say, I don't care how dirty you are up there, just be funny. Because they knew me offstage. They knew I was a good guy. They also understood what was starting to happen in the world of comedy, and they knew my whole plan of becoming the most exciting comedian, visually, ever. A real rock-and-roll stand-up comic.

Comics, as good as they might be, they didn't know much about performance. There aren't too many comics you could watch for an hour without getting tired. They might have good material, but it's about theater to me. That's why it was always about... as my career got bigger, the jackets became more elaborate, it became more Elvis-y. I really didn't study comedians. I studied rock stars and actors. And when I got into comedy, which was really for acting, I would see the guys who would be considered great today. Like Seinfeld -- as a clean comic, it doesn't get better -- and Larry Miller, and guys like that. They were great, but after a few minutes I could get kind of bored because they wouldn't move around. The dress code was boring to me. I didn't want to see the guy next door when I'm watching a performer. I wanted to see someone I would pay a ticket for.

HPC: Who are some young guys you pay attention to?

ADC: I really don't. I don't follow it at all. I hear about different guys, but I don't know their routines and I don't really follow them. If Guns 'N' roses are in town, I'll see them. But I never go see a comic. The only one I'd ever really want to see is Don Rickles. He might be 80 years, but he blows everyone out of the water.

HPC: What were your expectations going into this special?

ADC: I really prepared for this for a couple of years. I knew the day would come that I would want to do this again, and I really only wanted to do one more special. I wanted to create for people what I would call a very exciting rock-and-roll comedy special, and that we'd do it as a family and it'd be on film forever.

From my end of it, I had to prepare physically, and material-wise. I put a couple years into updating the kind of stuff I was doing. Between my ex-fiance Eleanor and meeting my current wife Valerie, there was a lot of dating that went on. That's when I realized the whole world has really spun. Women are now more aggressive than men! And I don't put them down for it. I think it's great. My attitude with sex with any woman I've ever been with is, I want you to be exactly who you want to be behind closed doors. Don't ever hold back with me. And comedic material comes out of that. That's why I bring up the book "Fifty Shades of Grey." I said, "You hide and you read that book while your husbands are at work. I had my wife read that book to me while she was sittin' on my [penis]." If you hide what you really are, then there's going to be problems in marriage down the road. I don't mind if a girl is aggressive. It's just sex.

HPC: Have you always been like that?

ADC: I've been like that since i was ten. I went to "school" when I was a kid, that's what i say. I was 17 years old, and i had a fight with one of my first girlfriends. She's telling me, I'll say it nice, she was complaining how i never gave her an orgasm. And I'll never forget thinking, that's never going to happen to me again in my life. So I would I go with women, 28 years, 35 years old, and I told them, you teach me what feels good and I'll do it. I had notebooks.

HPC: Do you think men have gotten less aggressive?

ADC: I think that a lot of men, especially once they're married, feel like their girl is just who she is, so don't treat her too special. They shut her off, and having sex before you go to bed is like a sleeping pill. I always say, you're supposed to remember the reason you even asked that girl out.

HPC: That's good advice.

ADC: Think of that moment when you looked at her and said, "I gotta have that person in my life." If you start letting that go -- there's no relationship. You walk into my bedroom at night, it looks like a nightclub. There's all kinds of lighting effects, there's all kinds of music. I want them to feel like they're in for a show. I believe in romance.

HPC: Do you think people can sense that?
ADC: I think they can tell. You have certain people in this country who will listen to my act and take the material like it's gospel. I'm not too crazy about that kind of fan. But the couples who are sitting there just laughing, they are the ones who are thinking, "It's just a joke, but that's so true." Those are the ones I love, who know it's a goof.

HPC: You recently finished filming a role in the next Woody Allen movie. What was it like working on that?

ADC: He doesn't like us to talk about the movie, but it's a pretty heavy flick. It's not a comedy from what I understand. Woody saw me on "Entourage," that's why he called me for this part. He knows who he wants in his movies. If I had to describe working on the movie in one word, it would be "thrilling." To work with one of the great filmmakers of all time is thrilling. He's one of the guys I would have loved to have worked with years ago, but there was so much backlash to what I did. I hadn't done a movie in 12 years, I didn't think I'd ever do a movie again.

I've had comebacks before, but this is an absolute resurgence. I'm about to sign contracts for a book deal, it's an autobiography. And producers and directors in Hollywood are interested. Twenty years ago, Chris Rock would say to me, "Where's the Dice movie?" I said, "Chris, I'm only 40 years old. I gotta live a little."
Click here for the full interview by Russ Luippold for Huffington Post